Only active, dues paid members may purchase SJS-MBCA apparel.
Introducing the SJS-MBCA Lands' End Store
Now you can wear the SJS-MBCA logo on a
wide selection of Lands' End apparel!
How to Order
1. Click <here> visit the SJS-MBCA Lands' End Store
---
2. Click of the type of apparel
---
3. Click on the item
---
4. Select the size and enter the quantity
---
5. Click on Apply logo
---
5. Click on the logo in either black or silver thread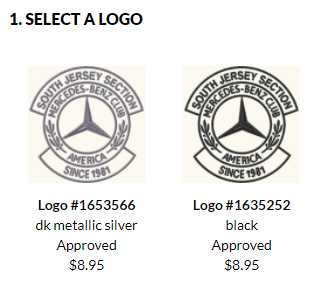 ---
6. Click on Select Location

---
7. Click on Apply Logo
---
8. Click on Add To Bag
9. Continue Shopping or Check Out
---
Note 1: The embroidery method used to stitch the logo varies with the product.
If you attempt to apply the SJS-MBCA logo to a product that has not been previously
ordered with the SJS-MBCA logo, just call customer service at 800-587-1541.
Note 2: The center of the SJS-MBCA logo is not embroidered - the color of the garment
will appear in the center of the logo. Please take that into consideration.
Note 3: Promotional items cannot be ordered individually.
For, example, the minimum ordering for baseball caps is 24.
---